Vinyl Record Player Wireless Turntable Bluetooth 3-Speed Portable Vintage Suitcase with Built-in Speakers, Includes Extra Stylus/RCA Out/AUX IN
Model: M417 Blue





Summary: Vinyl Record Player Wireless Turntable Bluetooth 3-Speed Portable Vintage Suitcase with Built-in Speakers, Includes Extra Stylus/RCA Out/AUX IN
---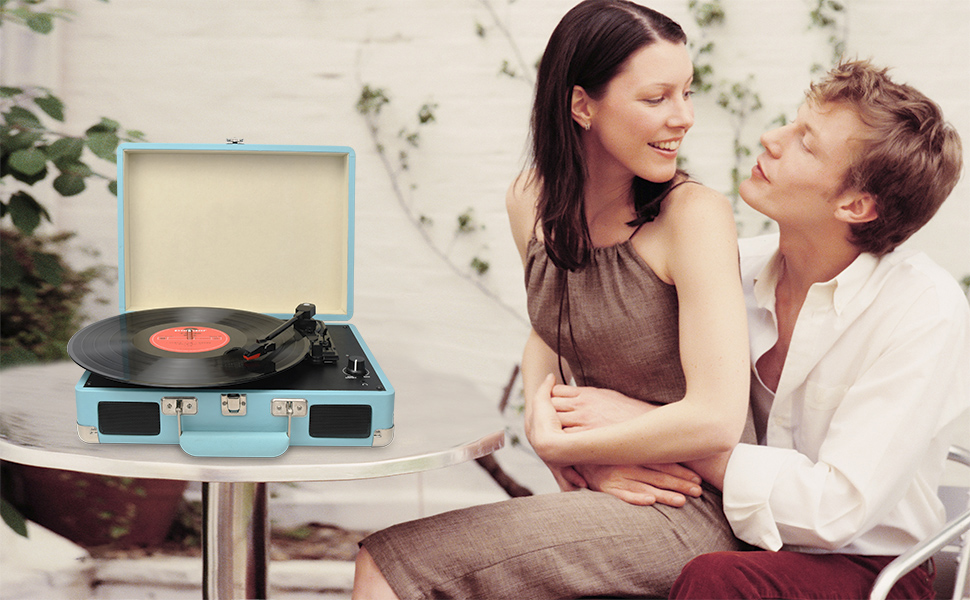 Flexible record player for your home
The record player works as a stand-alone record player with integrated stereo speakers. Alternatively use the USB port to connect the player to your PC and use it as a USB record player, recording and converting your favourite vinyl to WAV or MP3 format for your MP3 player. If you want to connect it to your home stereo, no problem too, with stereo phono outputs on the rear can simply and quickly be connected.
Stylish design & portable This one is built in to a stylish vintage styled briefcase / suitcase design and bound in a leather look finish with chrome coloured fasteners and black interior. Not only does it look great but it makes it incredibly portable too. 3 speed record player An absolute necessity for any record player is that it can play all your vinyl. It is switchable between 33 1/3, 45 or 78 RPM so will support your whole record collection.
Stereo Speaker

Active and Build-in stereo system provide loud and clear sound. it can be play the best partner when you are enjoying afternoon tea or holding a party with your friends. You can enjoy crystal clear sound quality with even the oldest bands.

RCA out for speaker

Integrated speakers provide convenient listening in any environment, 3.5 phone jack/RCA(line out) ports can be connected to your headphones or to your home stereo setup for a personalized experience.

Portable suitcase record player

It's comes with a suitcase design.The record player with a suitcase looks special in any living room.The briefcase design makes it easy for moving it room to room or traveling to vinyl clubs and other places with it.

All Ocassions
00000924
1 reviews for this product.