Portable Karaoke Microphone Mixer System Set, with Dual UHF Wireless Mic, HDMI-ARC / Optical / AUX & HDMI in/Out in Singing Receiver for Smart TV, PC, KTV, Home Theater, Amplifier, Speaker
Model: K203





Summary: Portable Karaoke Microphone Mixer System Set, with Dual UHF Wireless Mic, HDMI-ARC / Optical / AUX & HDMI in/Out in Singing Receiver for Smart TV, PC, KTV, Home Theater, Amplifier, Speaker
---
---
Product Description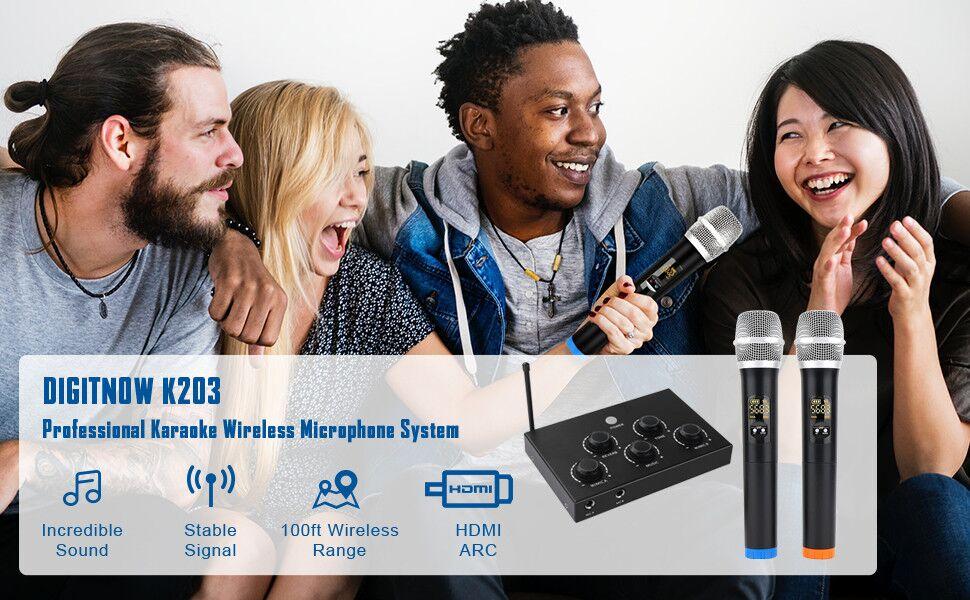 Troubleshooting:
1. The receiver and microphone cannot be paired. If your receiver light displays red, the receiver and microphone are not paired correctly. Please follow the instructions below:
Turn off the receiver and handhold microphone.

Press the "SET" and "POWER" button until the signal bar on the microphone display will flash. You can release the settings and buttons now.

Turn on the power of the receiver. Your microphone will be paired with the receiver, and the LED light will displays blue, the pairing will be successful.
2.If the receiver's indicator light is blue. But only one microphone has sound, or there is no sound when turns on the two microphones together. Please follow the instructions below:
Turn on these two microphones to check whether the microphone's screen display are both CHA or CHB together.

Choose one of the microphones, when the microphone is in power-on state, press the "SET" and "POWER" buttons simultaneously until the frequency flashing, then press the "SET" button three times quickly, the microphone will display CHA or CHB.
NOTE:
TV HDMI(ARC port) need set to PCM mode(not support dolby,5.1,DTS and so on).When receiver HDMI in work ,The HDMI (ARC) out not work(only out sound not input).Connecting a smart TV to the K203 receiver through HDMI requires your smart TV to have HDMI ARC port.Most TV manufacturers offer ARC output over only one HDMI port instead of all three or four ports on the set. This is usually indicated by a label on the set itself. If the HDMI ports aren't clearly labeled, you can check the TV manual, which should indicate which HDMI port to use.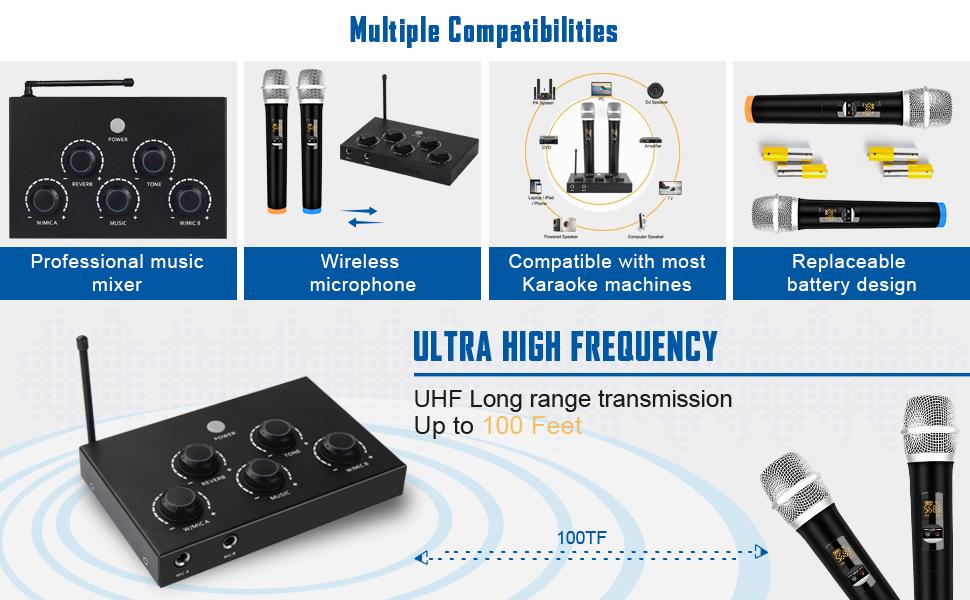 Note: Bluetooth Connection
The product comes with built-in Bluetooth function and you can choose to pair the receiver with bluetooth device as well.
Once you power on the receiver, the receiver will become discoverable

In the settings of your bluetooth enabled devices,set it to discover.from the bluetooth device list.select the karaoke mixer device. When the bluetooth is used to connect a device(Say a bluetooth enabled cellphone).

Please connect the receiver via audio out port to the sound output device(say a speaker or soundbar)

APPLICATION SCENARIO
Wedding

Stage Show

Speech

Party
0000010583
1 reviews for this product.