DIGITNOW All-in-One High Resolution 16MP Film Scanner, with 2.4" LCD Screen Converts 35mm/135slides&Negatives Film Scanner Photo, Name Card, Slides and Negatives for Saving Films to Digital Files
Model: M122A





Summary: DIGITNOW All-in-One High Resolution 16MP Film Scanner, with 2.4" LCD Screen Converts 35mm/135slides&Negatives Film Scanner Photo, Name Card, Slides and Negatives for Saving Films to Digital Files
---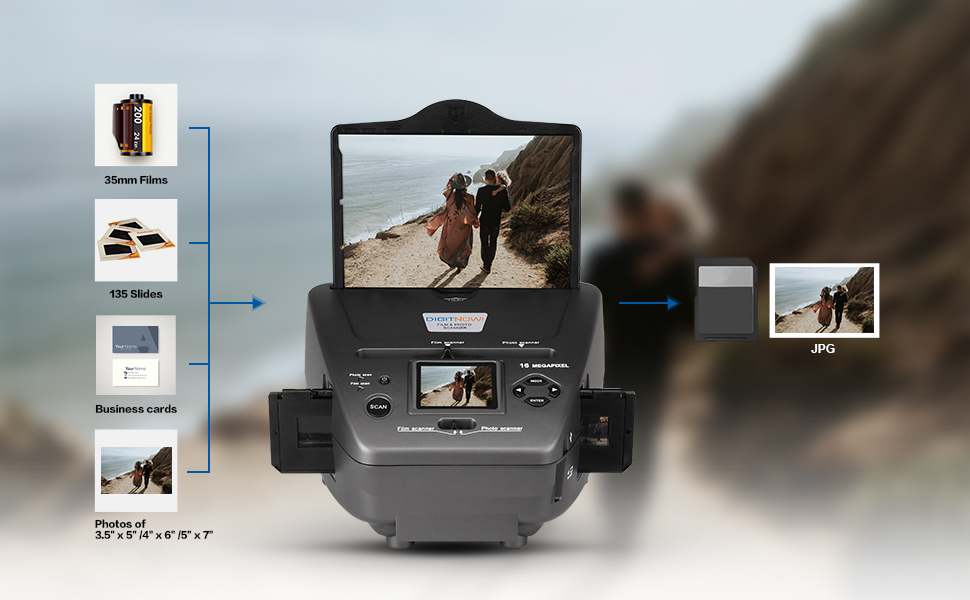 With the Digital Film Scanner & Converter from Digitnow, you can now fondly reminisce (and permanently save) those memories faster and easier than ever before! This versatile film-to-JPEG converter digitizes and optimizes a variety of antiquated films including 35mm and 135mm Negative/Slide and Scans Photo of Size 3 1/2x5 inches, 4x6 inches and 5x7 inche, enabling you to transfer images to any Mac or PC device for saving, sharing, printing and editing. Our all-in-one package comes ready with everything you need to start scanning: various film adapters and inserts, a built-in LCD color display and SD card slot, included cables and other accessories let you access your old adventures in various forms.

Extra-Large LCD

Observe each image in crisp, clear, high definition detail through the unit's 2.4 inch LTPS LCD Display . The liquid-crystal screen's oversized composition also makes it perfect for editing images and playing slideshows.

Easy file transfer

Once you've scanned a film,photos can be saved into any SD memory card.Simply plug the USB connection cable into any USB port on your PC or mac and put the scanner in USB transfer mode to transfer the digitized photos.These can then be viewed on your computer or other device, or printed out as regular photos.

All-In-One

There's no need for a computer when you can edit brightness, rotation and more directly on the all-in-one film scanner. Choose one of the pre-installed film profiles for a more accurate color rendition and eliminate the need for expensive editing software.

00000122993
1 reviews for this product.