DIGITNOW Film &Slide Scanner with 22MP, Converts 35mm, 126, 110, Super 8 Films, Slides, Negatives to JPEG, Tilt-Up 3.5" LCD, Includes Cables, Film Inserts, MAC and PC Compatible
Model: C101-WIFI black





Summary: DIGITNOW Film &Slide Scanner with 22MP, Converts 35mm, 126, 110, Super 8 Films, Slides, Negatives to JPEG, Tilt-Up 3.5" LCD, Includes Cables, Film Inserts, MAC and PC Compatible
---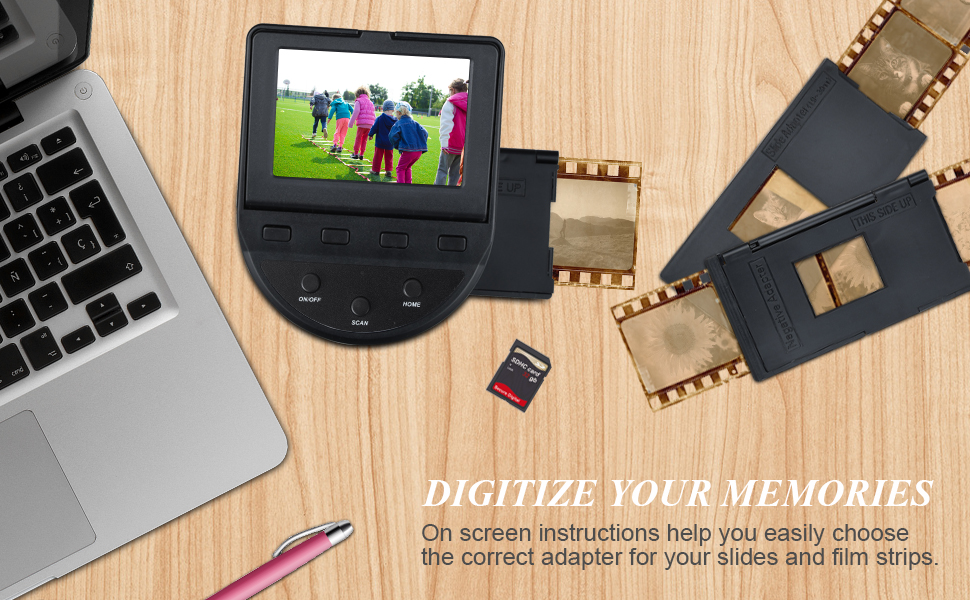 Extra-Large LCD

An integrated color LCD screen enables you to view and edit photos directly in the scanner, meaning there's no computer necessary. Tilt-Up 3.5''color TFT LCD screen,Easy operation & Convenient adjust scanning resolution,brightness & coloration.

Fast Speed Loading Adapters

In addition to the main scanner/converter unit, your complete kit arrives with interchangeable adapters, which help you quickly feed a variety of film types including including everything from 135, Super 8 and 8mm slides to 35mm, 126 and 110 negatives.

Big Screen Viewing

Once you've scanned a film, hit the main camera button to instantly save to your SD card. Images are saved to the internal memory (128MB).Comes with easy-loading film & negative adapters & film inserts&more, allows you to video out for TV connection(TV&HDMI cables included)

One-Touch Scanning

It scans and converts images on its own, making it a very portable, accessible solution. It also includes speed-load adapters that make scanning easy and straightforward. the unit comes equipped with large, comfortable buttons for moving through the program's many applications. Simply push them into the device, and you can feed in slides or negatives one after the after without needing to remove and reload the adapters.
0000015620
1 reviews for this product.