DIGITNOW Bluetooth Record Player Wireless Turntable HiFi System Wooden Bluetooth Turntable Converter with Counter Weight, Audio Music Player with Twin Detachable Speakers
Model: B10A





Summary: DIGITNOW Bluetooth Record Player Wireless Turntable HiFi System Wooden Bluetooth Turntable Converter with Counter Weight, Audio Music Player with Twin Detachable Speakers
---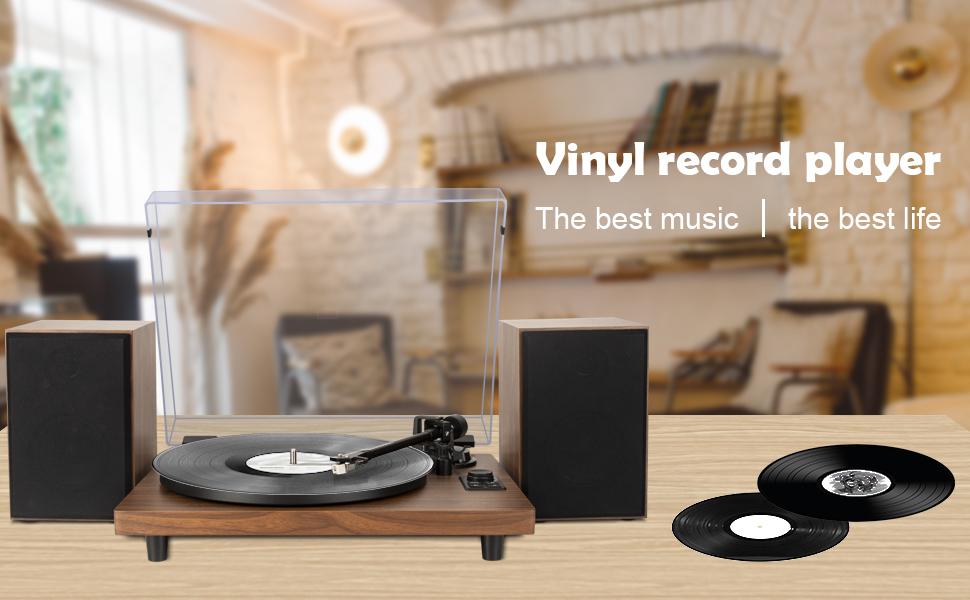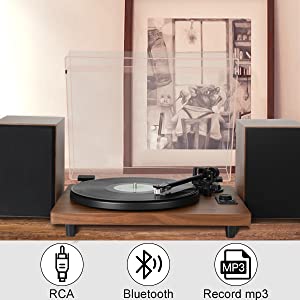 All-in-one Record Player
Unique Natureal Wooden Designed. Combines vintage turntable design and modern technology. Adjustable counterweight produces smooth stylus movement and tunes out skipping and distortion. All-in-one turntable that makes it easy to enjoy your records and convert them to digital music files on your computer. With bluetooth fuction, it supports to connect to external device wirelessly.
Whether you're savoring the warm sound of vinyl or streaming digital music via the built-in Bluetooth receiver, the included stereo speakers offer crisp. Making it an enticing choice for those who enjoy the music with the feeling of roaming through the time.
Features:
With Bluetooth function

Convert turntable to MP3s via USB connection to Mac or PC

2-Speeds(33and 45 RPM) Selectable Turntable Player

Hi-Fi speaker

RCA(R & L) output to other speaker systems

45 RPM adapter included









High quality stylus

Experience true sound with the sturdy Audio-Technic stylus. High quality stylus can protect your records from being scratched or avoid needle jump when turntable is working. A Perfect Choice of stylus and Ideal for All Styles of Music Playback

Support Bluetooth function

This vinyl record player supports wireless Bluetooth function, you can connect your smart phone and smart devices wirelessly when listening to digital music that you want. such as mobile phone, laptop and other bluetooth device.

Built-in stereo speakers

With 2 full range stereo speakers, it can be play the best partner when you are enjoying afternoon tea or holding a party with your friends.This turntable is also equipped with RCA output jack, so you can connect with your own family high performance external amplifier and stereo speaker to show better audio sound performance and enjoy genuine vinyl sound.









Adjustable Counterweight

Adjustable counterweight can ensure smooth stylus movement, prevent skipping, noise and distortion, in order to better protection your vinyl records and prevent scratches.

Hi-Fi speaker

It houses an encased wooden enclosure which minimizes acoustic resonance.Bringing cutting edge sound technology and marrying it to a classic style from the past.Enjoy the advantages of a advanced diaphragm. This provides a fast response rate and enjoy the advantage of excellent high frequencies.

Vinyl-to-MP3 Recording

USB direct encoding, transform audio from vinyl records into WAV or MP3 files, great way to backup your precious vinyl collection and enjoy your vinyl recordings music anywhere, any time.
0000063540
1 reviews for this product.